Announcing new features of Euler dapp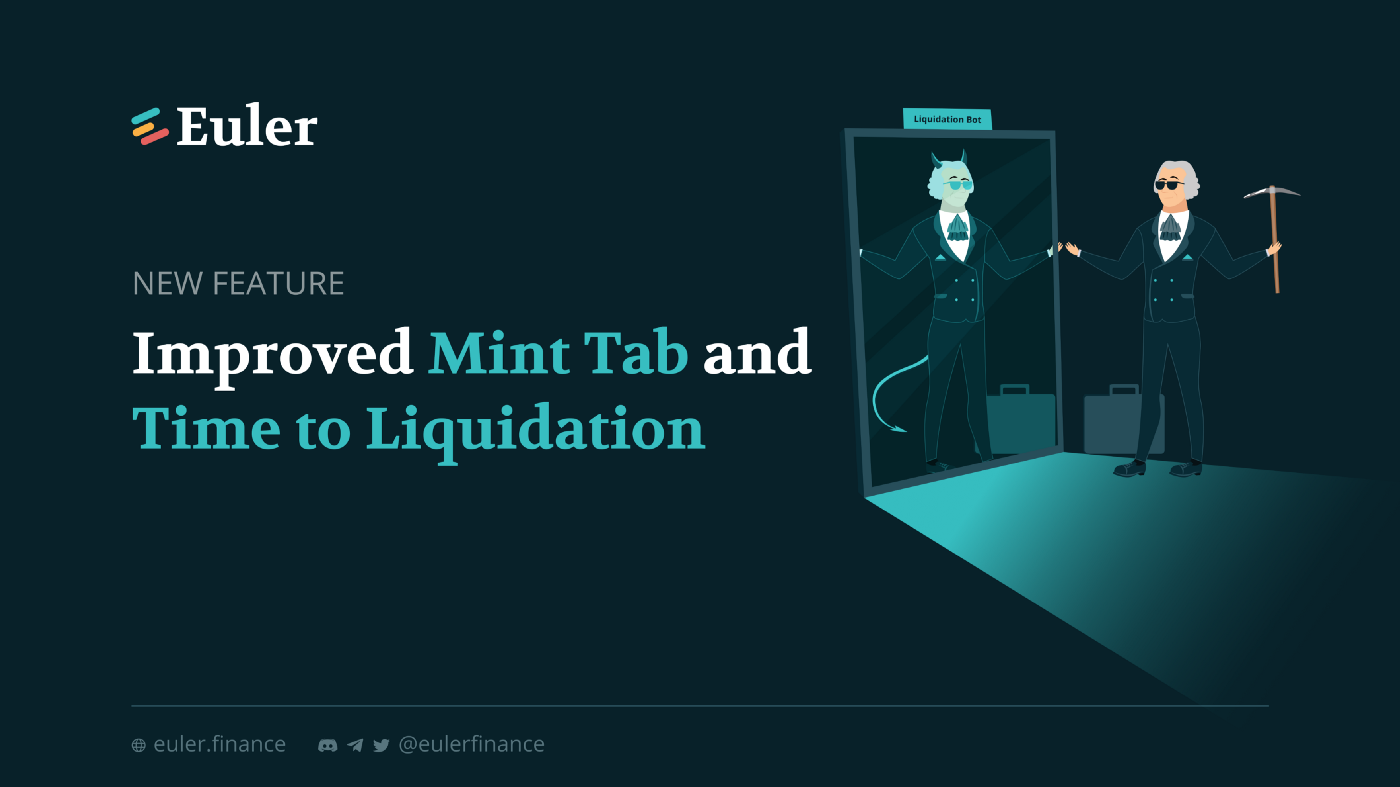 Long-awaited features are here! Estimated Time to Liquidation and Minting made capital efficiency easy!
Two new features in the Euler dapp have been introduced today. Both of them have been designed and developed in response to the community's feedback and should significantly increase user experience.
One of Euler's flagship functionalities is Mint. Mint creates an equal amount of deposits and debts for an account and hence is often used for creating leveraged positions. Users no longer need to recursively borrow the same asset to set up a leveraged position, but can instead use this gas-efficient Euler native function which requires only a few clicks.
A Mine function was introduced along with the announcement of distribution programme back in March. Mine's purpose is to simplify the existing Mint function so that users can easily create self-collateralized positions to mine EUL tokens. Very soon many users noticed that Mine and Mint are very similar in nature which lead to unnecessary confusion.
Hence, the Mine functionality was remove. Mine and Mint tabs were unified so that Mint can become a one-stop-shop both for building transaction batches and for users looking to build distribution strategies. Depending on the input amount, from one single tab, users can mint more (if the amount is greater than current debt) or burn (if the amount is less than current debt) making it simple for everyone. To simplify things even more, users can drag a slider and see: changing multiplier (leverage), estimates of how many EUL tokens are distributed, net profit/cost of a given position, but also Estimated Time to Liquidation, which is the second feature rolling out today!
The introduction of the long-anticipated Estimated Time to Liquidation, together with the classic Health Score, will better estimate the health of the user's account. The Health Score ratio, which is commonly used in DeFi space, defined as the ratio of risk-adjusted collateral to risk-adjusted liabilities is not always a good indicator of the risk of the account being liquidated.
Typically, an account gets liquidated when the Health Score drops below 1. However, users should take into consideration a self-collateralized loan. In a situation where a given asset has a collateral factor of 0, meaning that this asset can only be used to collateralize a loan of the same asset, and there is no other collateral provided, such a loan would always have the Health Score equal to 1. With that, there is no easy way to say how much buffer the given account has until will get liquidated. And this is where the Estimated Time to Liquidation comes into play.
The Estimated Time to Liquidation is calculated with one-day precision, assuming the asset prices and interest rates will not change. Certainly, the real time until liquidation would be different. However, the estimate enables users to easily check whether their account is at risk at that moment. As already explained, it might be especially helpful for self-collateralized loans where, depending on the leverage and collateral factor of a given asset, the health score metric is not a sufficient indicator to measure the risk of the account being liquidated.
However, the estimate might be a useful metric for a far more complex composition of deposits and debt within the account. If one assumes no major upside or downside movements of the market, it may deliver quite an accurate estimate of how much time is left until the debt must be repaid or more collateral deposited. Pretty useful, isn't it?
This is all for today. As always, please join the Discord community to leave any questions or feedback.
About Euler
Euler is a capital-efficient permissionless lending protocol that helps users to earn interest on their crypto assets or hedge against volatile markets without the need for a trusted third-party. Euler features a number of innovations not seen before in DeFi, including permissionless lending markets, reactive interest rates, protected collateral, MEV-resistant liquidations, multi-collateral stability pools, sub-accounts, risk-adjusted loans, and much more. For more information, visit euler.finance.
Join the Community
Follow us on Twitter. Join our Discord. Keep in touch on Telegram (community, announcements). Check out our website.
This content is brought to you by Euler Labs, which wants you to know a few important things.
This content is provided by Euler Labs, Ltd., for informational purposes only and should not be interpreted as investment, tax, legal, insurance, or business advice. Euler Labs, Ltd, is an independent software development company.
Neither Euler Labs, Ltd. nor any of its owners, members, directors, officers, employees, agents, independent contractors or affiliates are registered as an investment advisor, broker-dealer, futures commission merchant or commodity trading advisor or are members of any self-regulatory organization.
The information provided herein is not intended to be, and should not be construed in any manner whatsoever, as personalized advice or advice tailored to the needs of any specific person. Nothing on the Website should be construed as an offer to sell, a solicitation of an offer to buy, or a recommendation for any asset or transaction.
Euler Labs Ltd, does not represent or speak for on or behalf of Euler Finance or the users of Euler Finance. The commentary and opinions provided by Euler Labs Ltd., are for general informational purposes only, are provided "AS IS," and without any warranty of any kind. To the best of our knowledge and belief, all information contained herein is accurate and reliable, and has been obtained from public sources we believe to be accurate and reliable at the time of publication.
All content provided is presented only as of the date published or indicated, and may be superseded by subsequent events or for other reasons. As events markets change continuously, previously published information and data may not be current and should not be relied upon.