Euler Partners with Sherlock for Decentralized Exploit Protection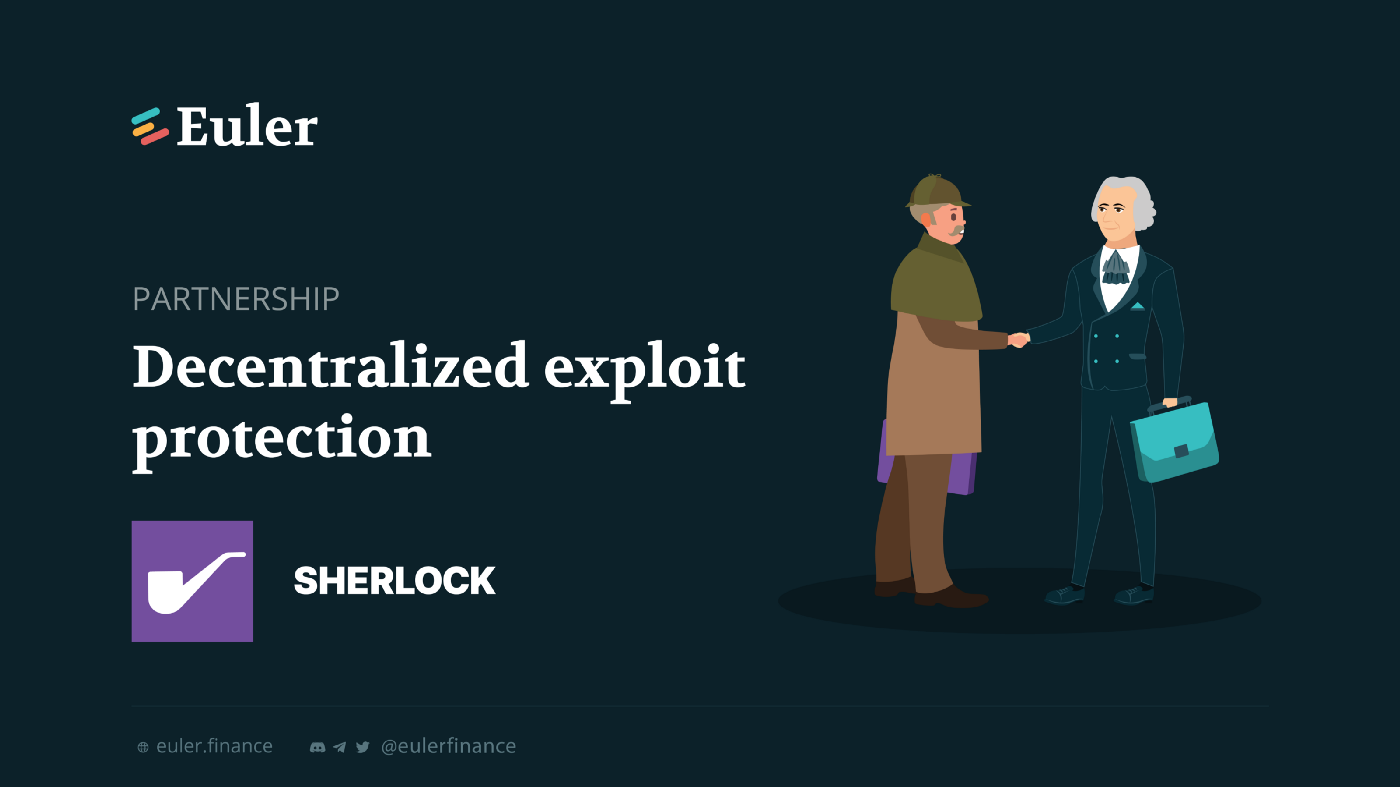 Euler is excited to announce a partnership with risk management platform Sherlock Protocol in a $10M collaboration that will increase the protection and security of Euler protocol users.
Sherlock has audited Euler's smart contracts and is also providing insurance coverage for the Euler platform, having started from the very first day of launch.
Sherlock is designed to offer affordable, reliable coverage against smart contract exploits through its unique security focused ecosystem. The Euler community benefits greatly from Sherlock's skilled security team (Watsons) and their experienced leadership over the 3 months that led up to the Euler mainnet launch.
Sherlock Audit Report
As the Euler community looks forward to continued collaboration with Sherlock, their expert team has already delivered Euler protocol's fourth audit report which is now available on Github.
Sherlock's audit report concluded that no critical issues were found that would lead to an unexpected loss of funds for reasonable usage of the Euler protocol. The report added that the developers' code was of high quality as the contracts used a complex approach to offer a number of novel protocol features and to save gas for our users.
Exploit Protect & Bug Bounty Program
In addition to the audit report, Euler will gain from Sherlock's $10M smart contract coverage, a $1M ImmuneFi bug bounty, and additional help and expertise that has already aided in the guarded mainnet launch.
As Sherlock's team mentioned in their announcement of the partnership, advanced DeFi security and protection is crucial as a number of protocols have been heavily affected by exploits where millions of dollars worth of crypto were drained from smart contracts this year. However, Euler's focus and dedication to creating a secure permissionless lending platform is wholly enhanced by Sherlock's services.
Sherlock's ecosystem entails three main participants, including protocols such as Euler, along with Stakers and Watsons who provide top level security services. Stakers are a unique part of Sherlock as the insurance coverage is written against the capital provided by the Stakers who gain some of the highest and most sustainable APYs in DeFi for their part.
Sherlock's in-depth coverage also presents a fair claims process as they manage to remove bias through a partnership with UMA where coverage holders can challenge claims decisions by escalating them to UMA's Data Verification Mechanism.
Sherlock officially launched their $30M guarded mainnet in September and Euler joins the ranks of Nifty Options by Teller and Primitive as part of Sherlock's first cohort.
Follow Sherlock
Keep up to date with Sherlock by joining their Discord, follow their Twitter, learn more from their docs, and anticipate their V2 launch in early 2022!
About Euler
Euler is a capital-efficient permissionless lending protocol that helps users to earn interest on their crypto assets or hedge against volatile markets without the need for a trusted third-party. Euler features a number of innovations not seen before in DeFi, including permissionless lending markets, reactive interest rates, protected collateral, MEV-resistant liquidations, multi-collateral stability pools, sub-accounts, risk-adjusted loans and much more. For more information, visit euler.finance.
Join the Euler Community
Follow us on Twitter. Join our Discord. Keep in touch on Telegram (community, announcements). Check out our website.
This content is brought to you by Euler Labs, which wants you to know a few important things.
This content is provided by Euler Labs, Ltd., for informational purposes only and should not be interpreted as investment, tax, legal, insurance, or business advice. Euler Labs, Ltd, is an independent software development company.
Neither Euler Labs, Ltd. nor any of its owners, members, directors, officers, employees, agents, independent contractors or affiliates are registered as an investment advisor, broker-dealer, futures commission merchant or commodity trading advisor or are members of any self-regulatory organization.
The information provided herein is not intended to be, and should not be construed in any manner whatsoever, as personalized advice or advice tailored to the needs of any specific person. Nothing on the Website should be construed as an offer to sell, a solicitation of an offer to buy, or a recommendation for any asset or transaction.
Euler Labs Ltd, does not represent or speak for on or behalf of Euler Finance or the users of Euler Finance. The commentary and opinions provided by Euler Labs Ltd., are for general informational purposes only, are provided "AS IS," and without any warranty of any kind. To the best of our knowledge and belief, all information contained herein is accurate and reliable, and has been obtained from public sources we believe to be accurate and reliable at the time of publication.
All content provided is presented only as of the date published or indicated, and may be superseded by subsequent events or for other reasons. As events markets change continuously, previously published information and data may not be current and should not be relied upon.