Euler smart contracts co-audited by Solidified and ZK Labs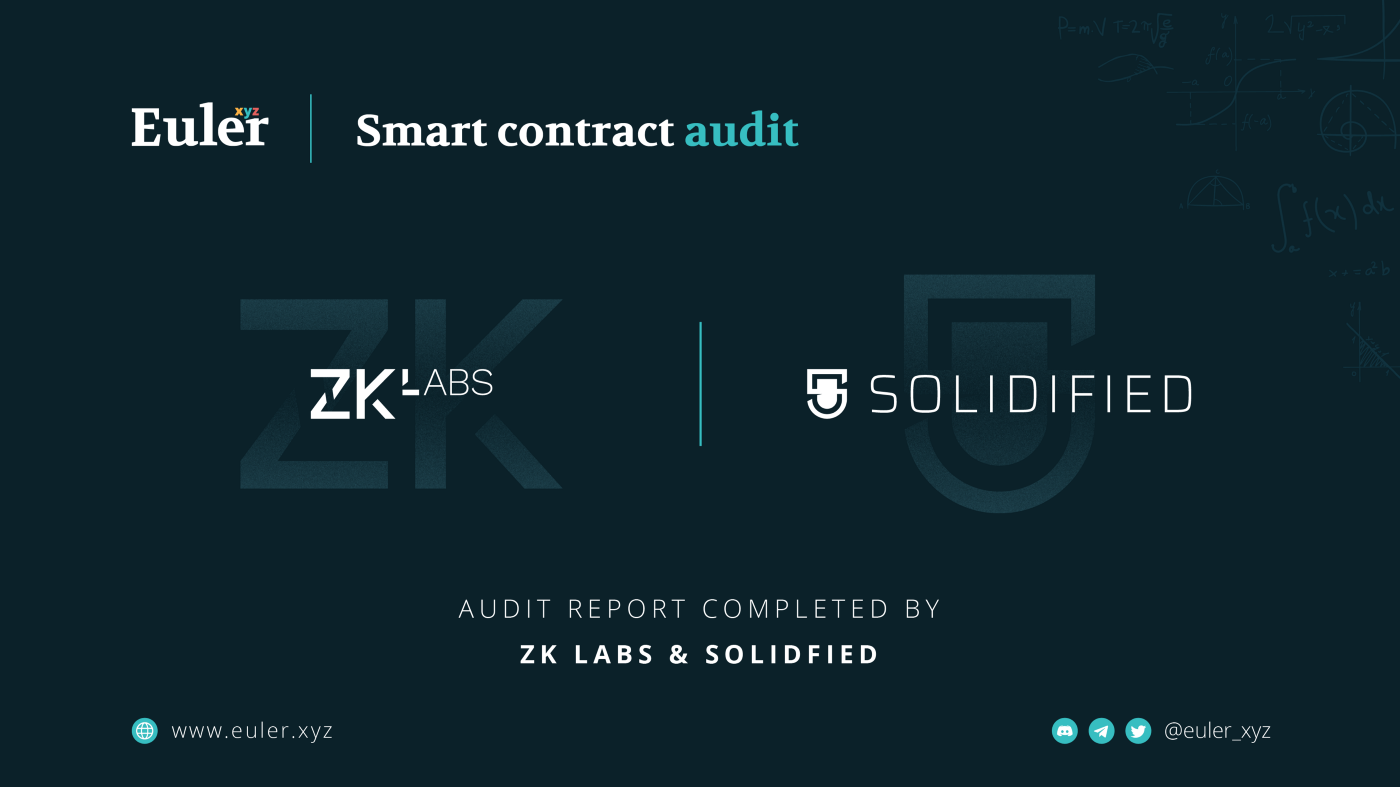 Introduction
The Euler v1 smart contracts are now largely complete and a partnership has been made with cybersecurity firms Solidified and ZK Labs to conduct a smart contract audit and review.
In terms of scope, they have been tasked with reviewing all Euler protocol's main contracts and to pay extra attention to the potential for the permissionless listing process to allow attackers to misuse the protocol.
The code was sent to their teams on 13th April 2021 for review and the final debrief took place on 3rd May 2021.
Overall, 4 minor severity issues were identified, 1 warning was made, and three informational notes were given. Crucially, none of the auditors identified any critical or major bugs in the smart contracts.
The final audit report has been made publicly available on the Solidified GitHub account here. Special thanks is due to Stefan and Veronica (Solidified), and Matthew (ZK Labs), for their contributions.
This is an important first-step for Euler pushing forward to public release in Q3 2021. The security of the protocol aims to be strengthened with further smart contract audits and details of an Euler Bug Bounty campaign will be announced in the near future.
Stay tuned and join the Discord if you have any comments or questions for the team.
About Solidified
Solidified is the largest smart contract auditor in the US with over $1B in assets under audit. Founded in 2017, they have audited many well-known projects like Argent, Loopring, Nexus Mutual, Gnosis, Polymath, Kyber Network and many others. Join their expert community: http://slack.solidified.io
About ZK Labs
ZK Labs is a firm that specialises in Ethereum smart contract auditing and development.
About Euler
Euler is a capital-efficient permissionless lending protocol that helps users to earn interest on their crypto assets or hedge against volatile markets without the need for a trusted third-party. Euler features a number of innovations not seen before in DeFi, including permissionless lending markets, reactive interest rates, protected collateral, MEV-resistant liquidations, multi-collateral stability pools, sub-accounts, risk-adjusted loans, and much more. For more information, visit euler.finance.
Join the Community
Follow us on Twitter. Join our Discord. Keep in touch on Telegram (community, announcements). Check out our website.
This content is brought to you by Euler Labs, which wants you to know a few important things.
This content is provided by Euler Labs, Ltd., for informational purposes only and should not be interpreted as investment, tax, legal, insurance, or business advice. Euler Labs, Ltd, is an independent software development company.
Neither Euler Labs, Ltd. nor any of its owners, members, directors, officers, employees, agents, independent contractors or affiliates are registered as an investment advisor, broker-dealer, futures commission merchant or commodity trading advisor or are members of any self-regulatory organization.
The information provided herein is not intended to be, and should not be construed in any manner whatsoever, as personalized advice or advice tailored to the needs of any specific person. Nothing on the Website should be construed as an offer to sell, a solicitation of an offer to buy, or a recommendation for any asset or transaction.
Euler Labs Ltd, does not represent or speak for on or behalf of Euler Finance or the users of Euler Finance. The commentary and opinions provided by Euler Labs Ltd., are for general informational purposes only, are provided "AS IS," and without any warranty of any kind. To the best of our knowledge and belief, all information contained herein is accurate and reliable, and has been obtained from public sources we believe to be accurate and reliable at the time of publication.
All content provided is presented only as of the date published or indicated, and may be superseded by subsequent events or for other reasons. As events markets change continuously, previously published information and data may not be current and should not be relied upon.