Introducing EulerDAO: Community Proposals and Voting Take Hold of Governance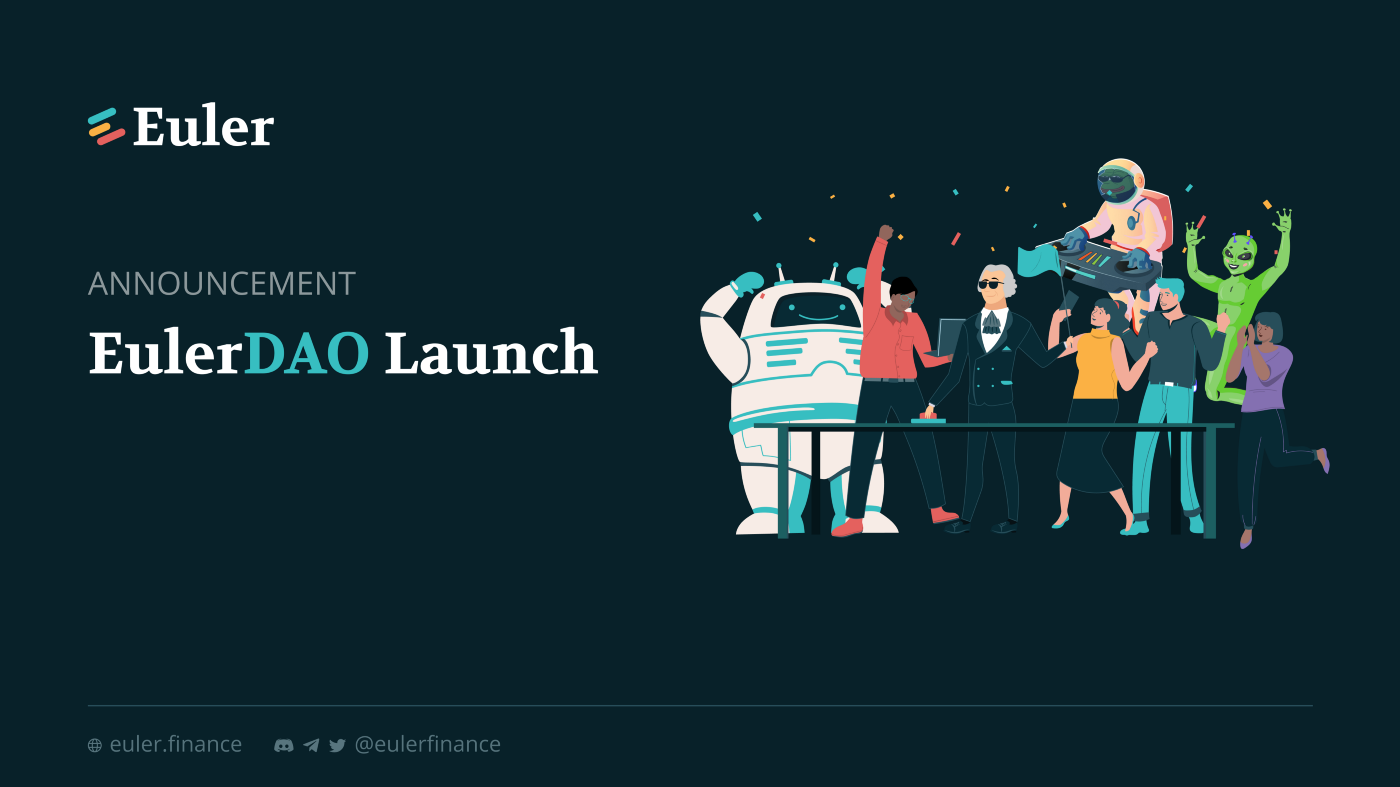 EulerDAO's decentralised and on-chain governance has been launched, with the community now able to vote on proposals and gauges.
EulerDAO's launch signifies a new direction in decentralised financial markets, where community members can democratically vote on market and asset structures to fit their needs. Through a non-custodial experience, users have equal access to permissionless borrowing and lending markets.
Starting today, community members can claim any available EUL tokens from previous epochs, select a delegate on the delegates page and participate in the future of decentralised finance.
The development of the Euler Protocol has matured into a rapidly growing DeFi platform that is uniquely positioned as truly decentralised and permissionless. Handing over full governance control to the community is not a first, but it is a groundbreaking leap as a risk-conscious protocol where users can list, borrow and lend nearly any asset.
EulerDAO's community-run governance enables users to vote or delegate their voting power to others in order to unite behind a shared vision of the protocol's future. Delegates, including those who have self-delegated, can create proposals that shape the functionality of the Euler Protocol. Delegates can propose changes to an asset's tier, collateral and borrow factors, interest rate model parameters, reserve factors, and much more.
The governance process will see users discuss potential changes, initiate proposals, community on-chain voting, and execution if successful, as shown below.
More details and guides on the voting process can be found in the Euler documentation. While anyone can become a delegate, delegation is a serious commitment as a volunteer to actively participate in governance, as EulerDAO should aim to fairly and adequately reward delegates for their significant efforts.
As part of the phased launch, proposals will be performed directly on the Euler Protocol smart contracts by the Euler team on behalf of the community. Governance proposers can use a tool to ensure the on-chain proposal is properly created.
The second phase will see a transition from the multisig to a TimelockController smart contract, while the final third phase will turn the Installer Admin to the TimelockController, thus placing the community in full direct control over governance. The phases are to provide a smooth and more secure transition process.
EUL Distribution
The Euler Protocol distributes EUL tokens to borrowers of certain assets, with the amount of EUL allocated to each market every epoch determined by EUL token holders voting through the gauges.
Soon after Epoch 7 begins, EUL token holders can visit the Gauge page and stake their tokens against a particular market to indicate their preference for that market receiving an EUL distribution in future epochs.
The EUL distribution schedule follows a bell curve model over a four-year period, with a peak around the middle. The schedule for the EUL distribution tries to match increasing protocol user numbers after launch with a concomitant increase in the EUL distribution, which should help to decentralise the supply of the token.
Users unfamiliar with the platform, delegation, on-chain voting, or anything else related to Euler and the DAO should refer to the various user guides or feel welcome to join the community Discord to ask questions and get involved.
The Euler Protocol has been developing over the past couple years, with the mainnet released earlier this year. Partnerships have been established with several top security firms that resulted in audits and a bug bounty.
The EulerDAO launch comes at a unique yet volatile time in not only DeFi but also global history. Now anyone using Euler can manage their own risks, assets, and opportunities in a transparent and inclusive environment.
Welcome to the EulerDAO, we're now live.
About Euler
Euler is a capital-efficient permissionless lending protocol that helps users to earn interest on their crypto assets or hedge against volatile markets without the need for a trusted third-party. Euler features a number of innovations not seen before in DeFi, including permissionless lending markets, reactive interest rates, protected collateral, MEV-resistant liquidations, multi-collateral stability pools, sub-accounts, risk-adjusted loans, and much more. For more information, visit euler.finance.
Join the Community
Follow us on Twitter. Join our Discord. Keep in touch on Telegram (community, announcements). Check out our website.
This content is brought to you by Euler Labs, which wants you to know a few important things.
This content is provided by Euler Labs, Ltd., for informational purposes only and should not be interpreted as investment, tax, legal, insurance, or business advice. Euler Labs, Ltd, is an independent software development company.
Neither Euler Labs, Ltd. nor any of its owners, members, directors, officers, employees, agents, independent contractors or affiliates are registered as an investment advisor, broker-dealer, futures commission merchant or commodity trading advisor or are members of any self-regulatory organization.
The information provided herein is not intended to be, and should not be construed in any manner whatsoever, as personalized advice or advice tailored to the needs of any specific person. Nothing on the Website should be construed as an offer to sell, a solicitation of an offer to buy, or a recommendation for any asset or transaction.
Euler Labs Ltd, does not represent or speak for on or behalf of Euler Finance or the users of Euler Finance. The commentary and opinions provided by Euler Labs Ltd., are for general informational purposes only, are provided "AS IS," and without any warranty of any kind. To the best of our knowledge and belief, all information contained herein is accurate and reliable, and has been obtained from public sources we believe to be accurate and reliable at the time of publication.
All content provided is presented only as of the date published or indicated, and may be superseded by subsequent events or for other reasons. As events markets change continuously, previously published information and data may not be current and should not be relied upon.